Non-alcoholic cocktails, known as 'mocktails', are a new trend on the healthy eating scene. Sober parties and alcohol-free bars are popping up all over the place in the world's biggest cities. People's view of non-alchoholic cocktails has started to change and they are now being viewed in the same light as their alcoholic counterparts. It is no longer a question of just serving a fruit juice with no alcohol, mocktails are now carefully crafted and thoughtfully prepared.
Non-alcoholic cocktails were previously seen as a 'better than nothing' solution to a problem but are now far-removed from the traditional image of 'virgin' cocktails.
Those who do not consume alcohol usually resign themselves to a soft drink although the mocktail is now revolutionising their way of thinking and giving them the chance to finally enjoy an evening amongst friends without feeling excluded from the fun.
The new watchword is 'creativity' when it comes to non-alcoholic cocktails and there are endless opportunities for putting a new spin on classic cocktail recipes.
0% Mimosa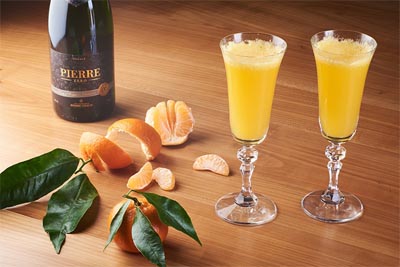 INGREDIENTS
Orange juice
Fill half a cocktail glass with orange juice and top up the rest of the glass with Pierre Chavin Perle Blanc.
0% Watermelon Cucumber Sparkler

INGREDIENTS
1 cup water
½ cup sugar
1 cup fresh mint leaves
6 cups cubed, seeded watermelon
1 large cucumber, peeled and coarsely chopped
¼ cup fresh lemon juice
4 cups chilled Tautila sparkling wine

Combine water and sugar in a small pot. Place over medium low heat until water starts to boil and sugar dissolves, stirring occasionally. Once sugar is dissolved, remove from heat. Add mint leaves and let stand for 30 minutes. Discard mint.
Place half of watermelon and cucumber in a blender with ½ cup of cooled mint syrup. Puree on high for 1 minutes. Strain mixture through a fine-mesh sieve into a pitcher. Repeat with remaining melon, cucumber, and syrup; stir in lemon juice.
Chill for 2 hours. Serve mixture in a cocktail glasses topped with ½ cup Tautila sparkling wine. Serve immediately.
0% Green & Glam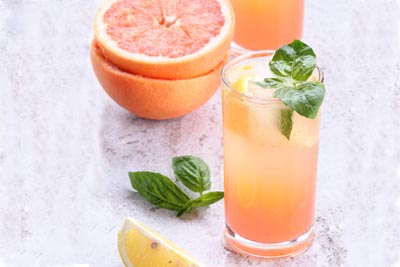 INGREDIENTS
Pierre Zéro Rosé
Fresh basil leaves
Grapefruit
Sparkling water
In a big glass, put Pierre Zéro Rosé with some fresh basil leaves and let infuse. Put the grapefruit juice with some sparkling water… Enjoy the tasting!
0% Cosmopolitan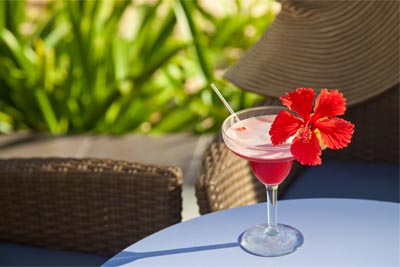 INGREDIENTS
1cl of lime juice
2cl of cranberry juice
Elivo Zero Zero Deluxe Sparkling
Chill your cocktail glass with ice. Put plenty of ice, lime and cranberry juices into your shaker and stir or shake vigorously for about 20 seconds. Remove ice cubes from the glass and strain the blend. Fill with Elivo Zero Zero Deluxe Sparkling and decorate with a wedge of lime.